[19. April 2013] A-400 Advanced Network Setup now available | [11 Jan. 2013] Customize your A-400 Home Screen
Firmware:
A-400 [13 May 2013] | C-300 [30 Nov. 2012] | A-300 [30 Nov. 2012] | C-200 [21 Jan. 2013] | A-200/A-210 [10 Aug. 2012]
Just got your NMT | WIKI has the answers | Search the forum | Forum Rules/Policy | Firmware & Official NMT News | Popcornhour manuals
User(s) browsing this thread: 2 Guest(s)
[transmission] Transmission 1.76 + DHT download and discussion (OLD THREAD)
12-22-2008, 12:46 PM
(This post was last modified: 12-22-2008 12:47 PM by gregor.)
Post: #356
gregor


Member




Posts: 254
Thanks Given: 0
Thanks Received: 1 in 1 posts
Joined: Nov 2008
Reputation: 1
RE: [transmission] Transmission 1.40 FINAL and 1.41 beta4
(12-21-2008 10:23 PM)

Ger Teunis Wrote: Yeah, a known 'issue' in the latest transmission client. They enable the whitelisting protection for real for the first time. Per default the NMT is configured wrongly, this will brake lots of new users. I created a fix for this in the setup.

Could you post the contents of the file
.transmission/settings.json on your harddisk on the NMT?
Hello
I have folder tranmission-nmt on nmt harddisk, but I can't find this file.
Here is what I have in this folder: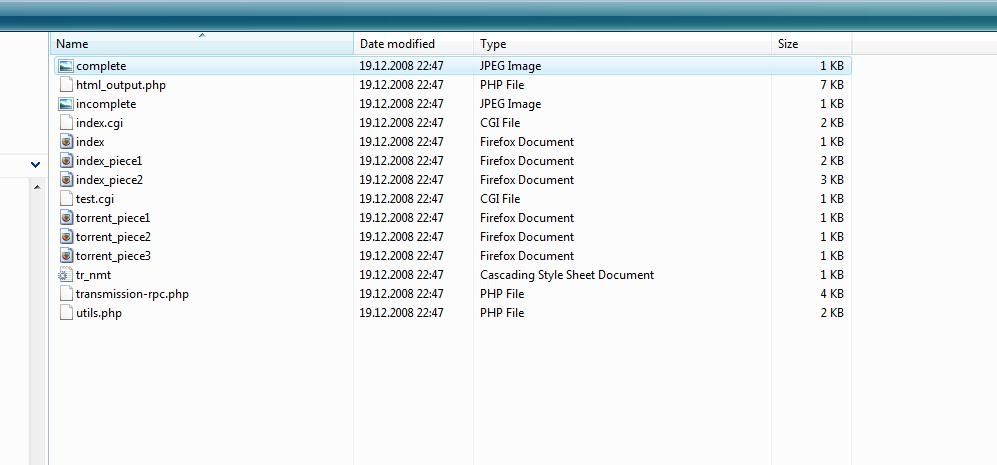 What now? Did I do something wrong during install? Can I fix this?
Or how can I uninstall 1.41 and install earlier version without such problems?
Thank you.